Here are the award categories for Carlisle 2019!!!
In honor of the 20th Anniversary of the 300M the BOD decided to add some additional categories to the awards this year. This includes a 300M specific award! We have a large number of cars coming again this year and we want to celebrate!
Like previous years all of these categories (except Most Cruisin & President's Choice) will be chosen by the members of this club and the people they bring to the show. We will be using the online polling system which worked great last year.
BEST ENGINE BAY
-Exceptional Engine Bay Design-
BEST RIMS
-Hottest Rims & Tires-
STAN WALKER MEMORIAL MOST CRUISIN AWARD
-Longest Distance Driven-
MEMBER'S CHOICE
-As Voted by All Attending Members-
PRESIDENT'S CHOICE
-Chosen by the Current President-
MOST UNIQUE MOD
-Coolest Mod on the Showfield-
BEST INTERIOR
-Exceptional Interior Styling-
BEST EXTERIOR
-Exceptional Exterior Styling-
BEST CHRYSLER 300M
-Celebrating 20 Years of Style-
BEST IN SHOW
-Most Outstanding Ride in Attendance-
**July Ride of the Month is awarded to the winner of this award!**
This award is open to any LH in attendance
*** I would like to stress to everyone that some members come to compete for awards and some do not. We welcome everyone, no matter what your car looks like. Please do not feel like you need to have a show car to come out to the meet!!! The awards are a friendly competition and are a part of the weekend but the meet focuses on friends getting together and hanging out as a group. We are a family friendly group and would love to see some new people at the meet. ***
2012 - 2019 Club President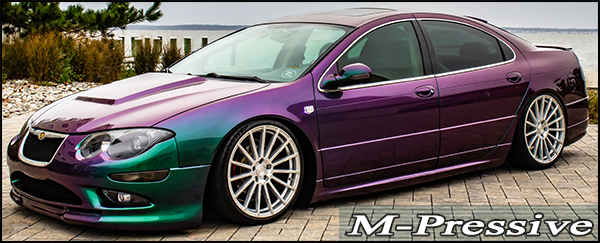 2002 Chrysler 300M Special
Slightly Modified