Thanks for the tip. I actually tried that right after I almost broke my Dremel (still kinda works but it's going into the trash). I looked at the other side and realized how it is then I suggest used a chisel too....came off, and managed to finish everything late Thursday night. Had to stash all my extra wirings and just leave it alone...even had to run a new temp wire to my dual fast charge USB that replaced the cigarette lighter as the center console and the cig lighter had no power.....
Didnt get to even replace the oil or even really check coolant level as we had to go to the airport, pickup my sister, then drove back, dropped them home and rushed to work. Went through a work day half mad, that I couldn't leave early to get some sleep , half mad I didn't get everything done on the car. We left Friday around 2 pm and spent labor day weekend at Chattanooga .... Pretty awesome place and alot of fun. We decided to leave Sunday night (instead of Monday at noon) so my sister can drive back to Miami before the hurricane would shut everything down (her Tuesday flight was cancelled already by Sunday morning). Got back late last night, put some air in the bases's rear tires while we were gassing up, filled up about 7 gallons in gas containers and off she went.
So my 300M base in Miami again ( it's been on Miami duty for a few years now
).
No issues with the LHS on the trip of course ....when I parked on the driveway, late last night,a bit more spirited, I though I hear a clunk. Though I heard it on the 6k road trip once too. Have to remember to lift it up and check if either the subframe bushing bolts need to be tightened or if the people at the alignment shop left something loose. Could have also been something in the car shifting as it was full with stuff on both occasions.
Sent from my moto g(6) using Tapatalk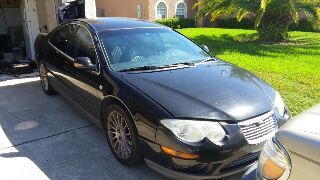 2002 Chrysler 300M Special ...151k (179k replacement engine) ....my dd.....
2001 Chrysler Lhs ... 181k ... her dd
2000 Chrysler 300m Base ... 135kk ... my all round "truck"