Looking good, Alex!
I had Monday off, so after trying to relax on Saturday, I dove into car projects on Sunday.
Started with the Ram.
I replaced the PCV valve, then tried to replace the EGR valve.
Chrysler put it in a horrible location. They used stupid torx head bolts.
After messing around with it for an hour or so, I broke the rear bolt after getting it out a small amount. That sucked.
I gave up. Then I brought the truck to my mechanic.
They called me yesterday morning - could be $700 to fix it, they need to take the intake off.
That is ridiculous money to spend to replace a $65 part, but it is not their fault Chrysler designed it to be inaccessible despite the fact that the 4.7 eats the stupid EGR valves.
Today I spoke to them around noon and they told me it was in the shop waiting to be taken apart.
So after that debacle in the morning I moved on to my new Special.
First I put new belts and new pulleys on the motor.
Then I took off the plenum in order to put the intake spacer on, replace the cam seals and MTV seal, and clean out the plenum.
Once it was off, I replaced the rear cam seals, MTV seal, and checked out the inner tie rod bushings, which were pretty good.
I moved on to replace the PCV valve, cranked it one crank in the wrong direction, then tried to turn it back the right way and it snapped off inside the plenum.
So I cleaned up and gave up for Sunday.
Monday morning, after some rest, I went back out, drilled out the PCV valve, and used a screwdriver to turn the shell of it out of the plenum.
Then I did some cleaning of the motor, put the intake spacer on, and buttoned everything back up in the engine bay.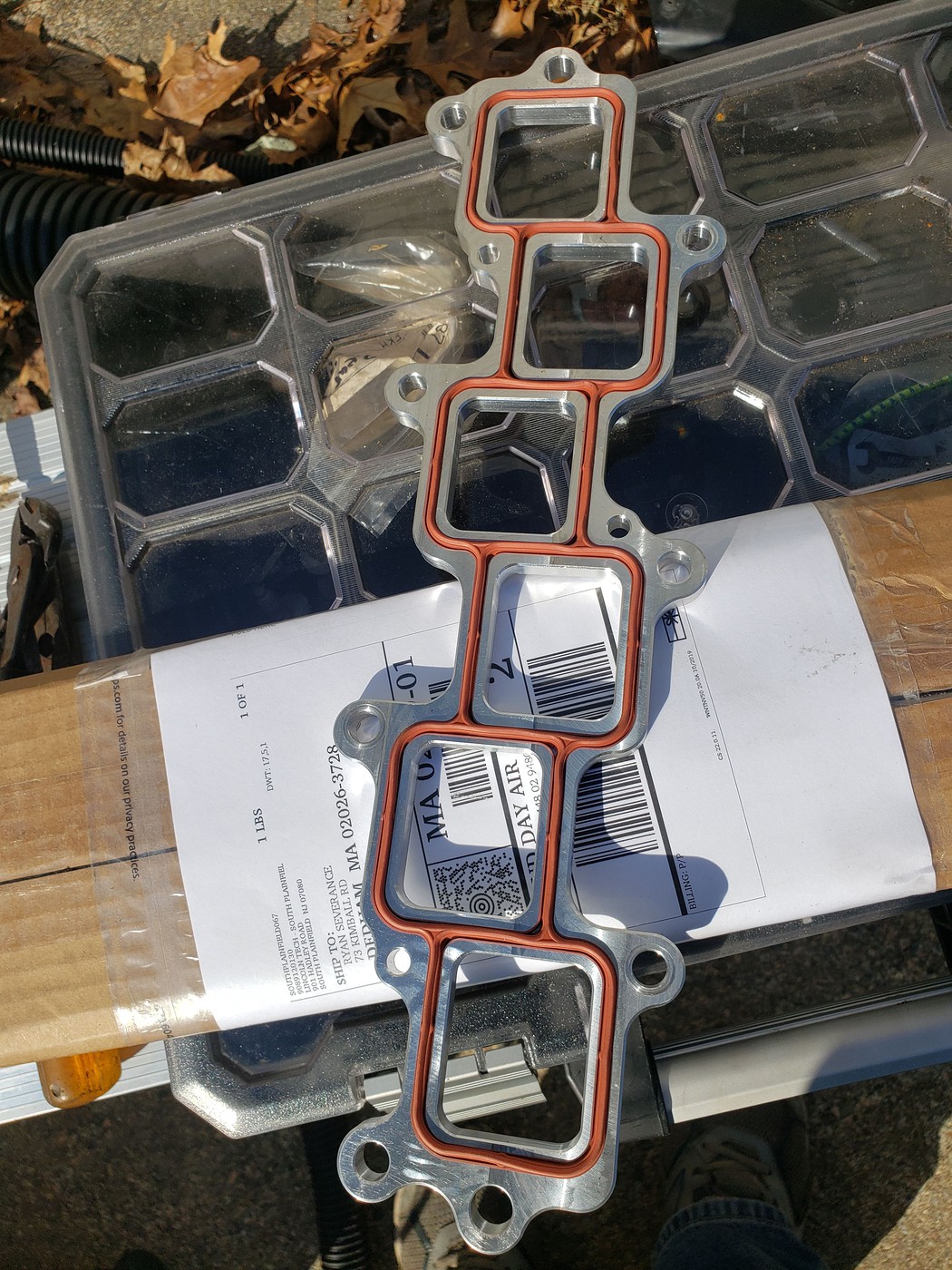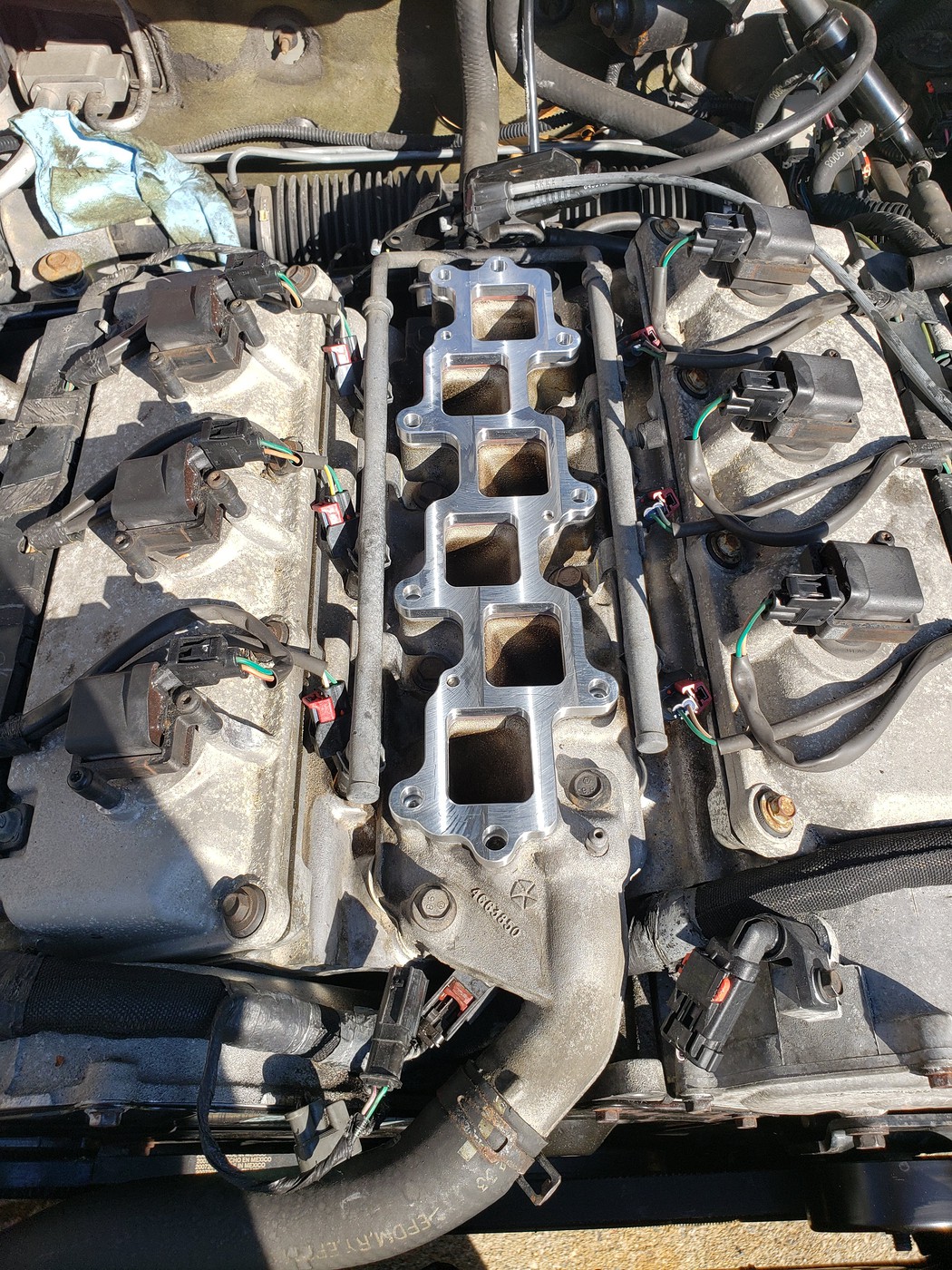 Then I changed the oil with fresh Mobil 1 10W30 High Mileage.
After that, I moved on to the rear of the car.
I painted and installed the gas tank straps, new rear rotors and Wagner Thermoquiet Ceramic pads, and new rear swaybar endlinks.
Here was my pile of rusty, used up parts when I was done: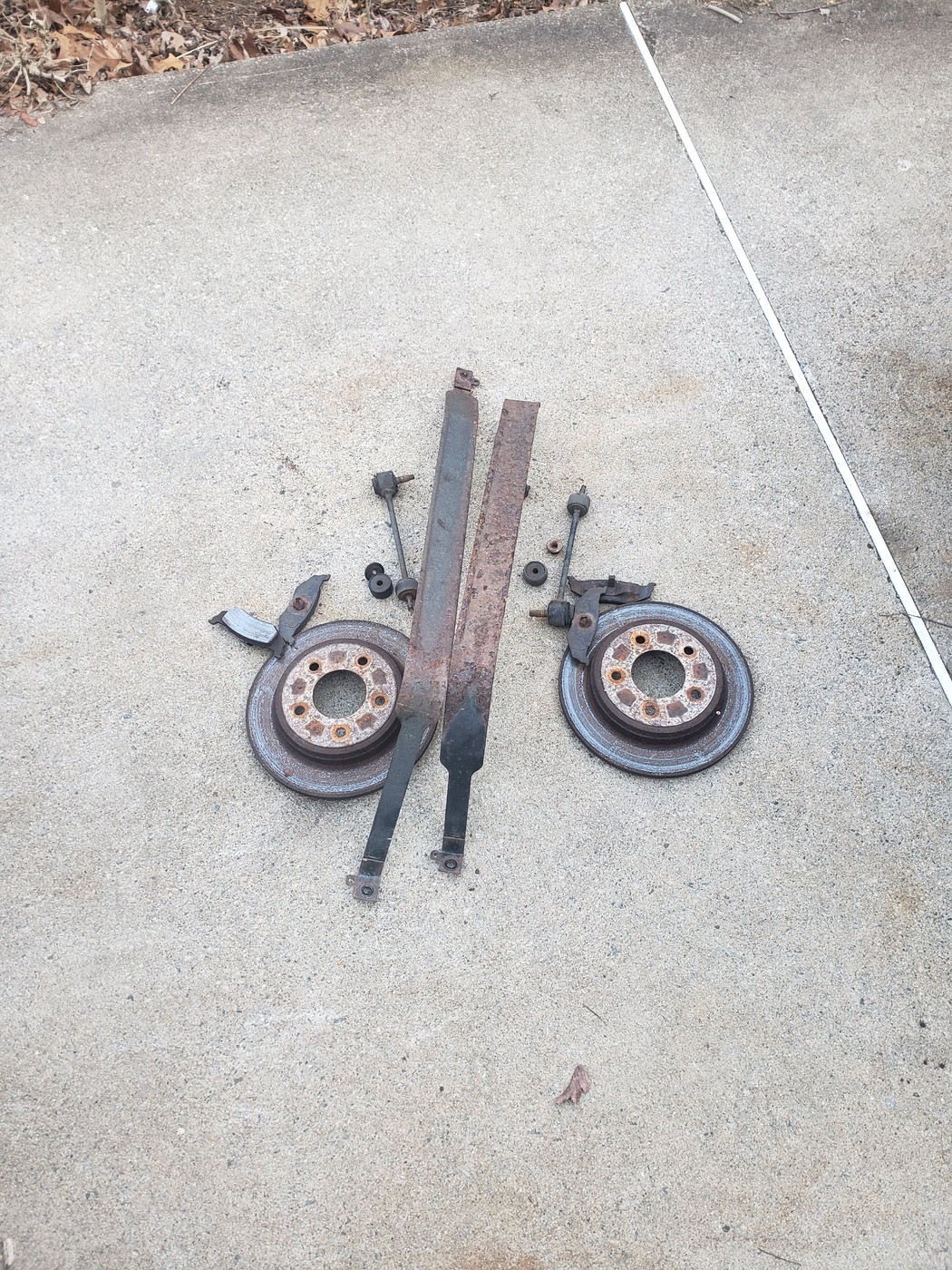 Then I moved on to reassembly of the interior, but I only got a few things done before I had to pack it in for the night.
So, from my earlier list:
Reassemble the dash (lower panels and Rb1/DVD Changer install).
Install the adapter and low profile Sirius Antenna.
Oil change.
New idler pulley.
New tensioner pulley.
New belts.
New rear lateral links.
New painted gas tank straps.
New rear sway bar endlinks.
New rear brake pads and rotors.
New front sway bar bushings.
New NGK Spark Plugs.
Upstream NTK O2 sensors.
New PCV valve.
V4 Plenum spacer.
Rear cam seals.
Front MTV valve seal.
Then possible items to be replaced depending on their condition:
Inner tie rod bushings.
- Driver's side has a minor amount of wear, decided it wasn't worth it at this time.
Harmonic balancer.
- What is on there is good, no need at this time.
I need to finish putting it together inside before it is "done."
Then I need to get it aligned after the suspension swap from my original Special.
I can do the o2 sensors, Sirius antenna, lateral links, and front swaybar bushings after I start driving the car.
2017-2020 Club Vice President. || Carlisle 2019 Best Exterior! Thank you!



2002 Dodge Intrepid ES. || 2004 Chrysler 300M Special. || 2009 Dodge Ram SLT.


1969 Plymouth Satellite Wagon.

||

1969 Dodge Coronet 440 Coupe.


Ashley's: 2017 Ford Fusion Energi. Mom's:

2003 Chrysler 300M. 40k!


Prior: 2001 Intrepid SE. || 2001 Concorde LXi. || 2002 300M Pro Am. || 2004 300M Special.