Gourmet kitchen for Darlene, 3 car garage for Bob. Part of the retirement plan was/is a project car.
While an old school Mopar (aka Plumb Crazy 70 Challenger) would be the ultimate I have often said "the car will find me". While not a Chrysler it does start with a "C" and it found me for
free
. Rented a trailer and my buddy towed it from Greenville to Myrtle Beach.
1978 Chevy El Camino 305 V8, Auto trans basic Elco.
Project has been "sleeping" outside for 15 years.
Past owner took it apart, some upgrades such as high rise intake w/4bbl Holly, Headers, Dual Exhaust, Poly suspension and body bushings throughout and then it went to sleep. He towed it from NJ to SC, moved and towed it again, but never woke it up.
SO for the past few days I have been going thru it getting ready to wake it up. Fresh Fuel pump, clean out carb, freshen up starter, pulled the plugs, rotated engine, etc.
Maybe tomorrow, weather permitting, will push it outside for an attempt to start and more pics.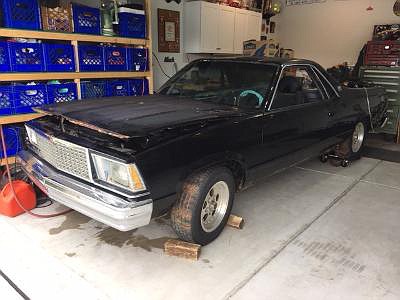 Body is straight, left lower quarter is rotted, floors and truck bed intact!
While it is disassembled every piece it there except the side view mirror!
With this on skates, all 3 cars fit in the garage !
Stay tuned for updates!
#437
FIREM
One Quarter of a MILLION Miles:: In Memory of John

Club Secretary Serving on BOD for 15 Years "Fotki Captain",
25 Years of the LH
http://www.300mclub.org/home/history-of-the-lh/
20 Years Club History
https://www.300mclub.org/20th-anniversary-of-the-club/
20 Year Celebration of the Special
https://www.300mclub.org/20th-anniversa ... m-special/
Other :
viewtopic.php?f=60&t=36818