FOR SALE - 2002 Chrysler 300M Special - Asking $4,500 USD as-is and as-described.


Location: Waterford Township, Michigan
Please message me privately if you are interested and have questions, or need additional images. Images at end of this post.
Vehicle specifications:
2002 Chrysler 300M Special
Exterior - Black (Gloss Black)
Interior - Deep Slate/Light Taupe two-tone
Option packages - Special performance trim, Moonroof
Mileage - 137,951
The time has come for us to consider adjustments to our fleet. Sadly, this means finding a new home for our Black 2002 Special. We're listing it with the Club first in the hope of finding it a new home with someone who will care for it the same way it has been cared for since the previous owner purchased it in 2009.
Some history of the car.

This car was originally owned, registered, and locally driven in western Pennsylvania, around the Pittsburgh area. The original owner then traded the car in around the 2008/2009 timeframe. At this time the car was purchased by its second owner, a member of the club, Cory (grayslater). Cory registered the car and daily drove it in central Illinois from early 2009 until late 2012/early 2013, at which time he listed the car for sale after purchasing a newer car for himself. The car was then purchased by its current owner, Nick, who initially registered it in eastern PA (Valley Forge area). While there the car was seldom driven until Nick relocated to the suburbs of Metro Detroit, Michigan, where the car has remained since Spring 2014.
Under Cory's ownership the car was daily driven, yet garage-kept and regularly maintained. Anything the car needed, it received. Cory replaced the timing belt and water pump at 100k miles, replaced the front struts and springs (HD Interceptor pkg), among other items as needed. It was also upgraded with LED lights in the map and reading lights, received a red underbody light kit, rubber fitted trunk mat, "SRT Design" vinyl logos applied to the headrests, a NOS upper grille with chrome edge accents applied, red painted calipers, K&N Intake installed, and SRT Design 20x8" factory wheels from the 2008 300C SRT Design package, and the car was loved.
Upon purchase by Nick, the front sway bar bushings were replaced, brake rotors and pads were done at all four corners, minor underbody surface rust was taken care of, and all front end noises were cured. He also upgraded the factory HID headlights to 6000K bulbs to update the look.
Following the move to Michigan, matching rear struts and springs supplied by Cory from the purchase were installed, new tires were installed on the SRT Design wheels, RB1 navigation was installed along with 6-DVD changer. Additionally, the front fascia, hood, and roof were all professionally repainted and a Mopar-style rear spoiler was paint-matched and installed. He also upgraded the third brake light to have two rows of LED strips from the popular Explorer CHMSL mod.
For us, this car has always been a spare and never a daily driver. We have kept it in a garage under a cover and on a battery tender daily since 2014 alongside our blue Special. It has been to Indy several times with Cory and once with Nick, Carlisle a few times with Cory and twice with Nick, and it attended the Ocean City meet in 2013. Other than these meets it has not seen rain, and it has not seen salt since the 2012 winter season. It has won Ride of the Month, Ride of the Year, IndyMeet Best of Show, Ocean City Best Cruiser, and Best Interior in the first annual John Benjamin Memorial Car Show.
I would rate the interior condition as a 9/10 with no holes, rips, tears, only typical wear on the driver's seat bolster. Exterior is 8/10 with the biggest issue being a large chip on the leading edge of the driver front fender where the fascia bolts in (fairly common). Were I going to show the car again I would apply more touch up paint and gently wetsand/polish to improve this.
Sale will include a new set of fuel tank straps that I bedlined, as well as the original set of 18" wheels and tires → These wheels were the winter set until 2012, tires look OK however they should be replaced due to age if the wheels are to be used again. The 20" tires on it now are considered summer only tires, and are 7 years old. They have been in the garage all this time and never stored outside, so they should have a few years left in them. They are oversized tires at 245/40/20 for comfort, and hence the speedometer will read 5% slow (if speedo reads 65, actual speed is closer to 70, this is only because of the increased tire diameter, I set cruise in my blue car with the same size tire to the posted speed limit on the highway and have had no concerns).
Modifications/changes:
Engine → K&N FIPK air cleaner assy, silver painted 24V V6 lettering on plenum, sight shield.
Trunk → Rubber molded trunk mat.
Interior → RB1 navigation, 6-DVD changer, Deep Slate shifter bezel/console lid/molded cup holder/rear vent panel, wood steering with graphite plastidip + DS paint applied (removable), custom chrome overlay on factory shifter, LED map + reading + courtesy lights.
Exterior → SRT Design 20x8 factory wheels, red calipers, slotted/drilled rotors, single color underbody lighting kit, dual Explorer CHMSL upgrade, SPECIAL vinyl over CHMSL, 3.5L MAGNUM emblem on trunklid, OEM spoiler, NOS grille with added chrome trim, 6000K HID bulbs, LED fog lights in new housings.
Service history summary:
Timing belt and water pump replaced summer 2018
Coolant (Zerex G-05), accessory belts, idler pulleys summer 2018
Coolant reservoir (OEM Mopar) 2018
Front struts and springs (Interceptor package) 2012
Rear struts and springs (Interceptor package) 2014
Sway bar bushings 2013
Rotors and pads 2013
Tires (Hankook Ventus V12 245/40/20, 3-season tires only) 2014
Transmission fluid (ATF+4) 2010
Windshield 2015
THE GOOD
The car starts, runs, drives, turns, stops flawlessly. Turns over like it was driven yesterday, rides almost soundlessly. Sometimes I dislike driving it because it makes me realize how much better the blue car should feel, which I attribute to the difference in struts. It's very comfortable, rides a measured 1/2" more than the blue car's OEM suspension, and I wouldn't hesitate to drive it across the country today. The paint is in very good condition with no major body damage (rust, dents, deep scratches, etc.). In spite of their age, the brake lines also appear to be in great shape. The belts might need a tightening since I don't think I tightened them enough when I installed them, and the brakes could use a few miles to smooth out from sitting, but it's otherwise ready to go.
SOME NOTES, AND WHAT IT NEEDS
I mentioned the fascia and hood and roof were all repainted in 2015. The fenders were not, and on bright sunny days you can see the difference in the 2002 painted fenders vs the 2015 painted hood. When the hood is up, you can't really tell. Additionally the leading edge of the drivers fender has a chip where these cars typically get them when the fascia is improperly tightened. I think this can be remedied with additional touch up paint and some careful wet sanding and polishing to improve the appearance, however the fade vs the hood would need to be blended professionally.
Much of the underbody is relatively rust free, however not completely. The fuel tank straps have seen better days, and I am including a set of bedlined replacements in the sale. I have been waiting for the tank to be empty before doing this job and unfortunately the car is not being driven now, so the tank is still full (driven minimally each year, topped off with fresh fuel each winter).
The crossflow muffler has also seen better days. It's not rotted out, however it does have a small hole. The result is a rather throaty sound that many people would enjoy, but it's worth noting that it makes the car a touch louder than when it was new.
While the heater works very well, the aircon is inoperative and the system is empty, resulting from a leak that has not been diagnosed yet. As far as I am aware, the entire A/C system is factory original and the dash has never been removed. The system was recharged with dye-infused refrigerant a few years ago and cooled just fine until it leaked again, so the compressor was working fine at that time. A UV light should hopefully be helpful in seeing where the dye leaked out.
You'll notice most of the maintenance was done 2014 and earlier with exception to the timing and accessory belts (oil was also done around 2019 with full synthetic). This is because the car has not been driven since late 2015. It has been unregistered since 2016 in an effort to save money on high registration and insurance costs for what has essentially been a spare car. I start the car and run it through gears 1-3 (4th not accessible while sitting, by design) periodically, and have driven it on loops around our private road neighborhood several times since moving here May 2020, to keep the fluids moving and wheel bearings and axles rolling. Each time I do, I get annoyed at how well it runs and drives vs our more frequently used blue car, and hence I would not hesitate to drive it across the country today if I could get in to the SOS to re-register it.
Because it is not currently registered, the buyer will need to arrange either transport from our home to yours, or registration where you are and plan to bring the plate to the car when picking it up in order to drive it home. That is what Nick had done when he bought it and flew to IL with his PA plate.
We hate to see the car go, because it's in such excellent condition, however we will have other needs for its side of the garage and it doesn't make sense to store it elsewhere. Please reach out if you are interested and have any questions. Below are images of it for the John Benjamin online car show, as well as a few I took of it recently.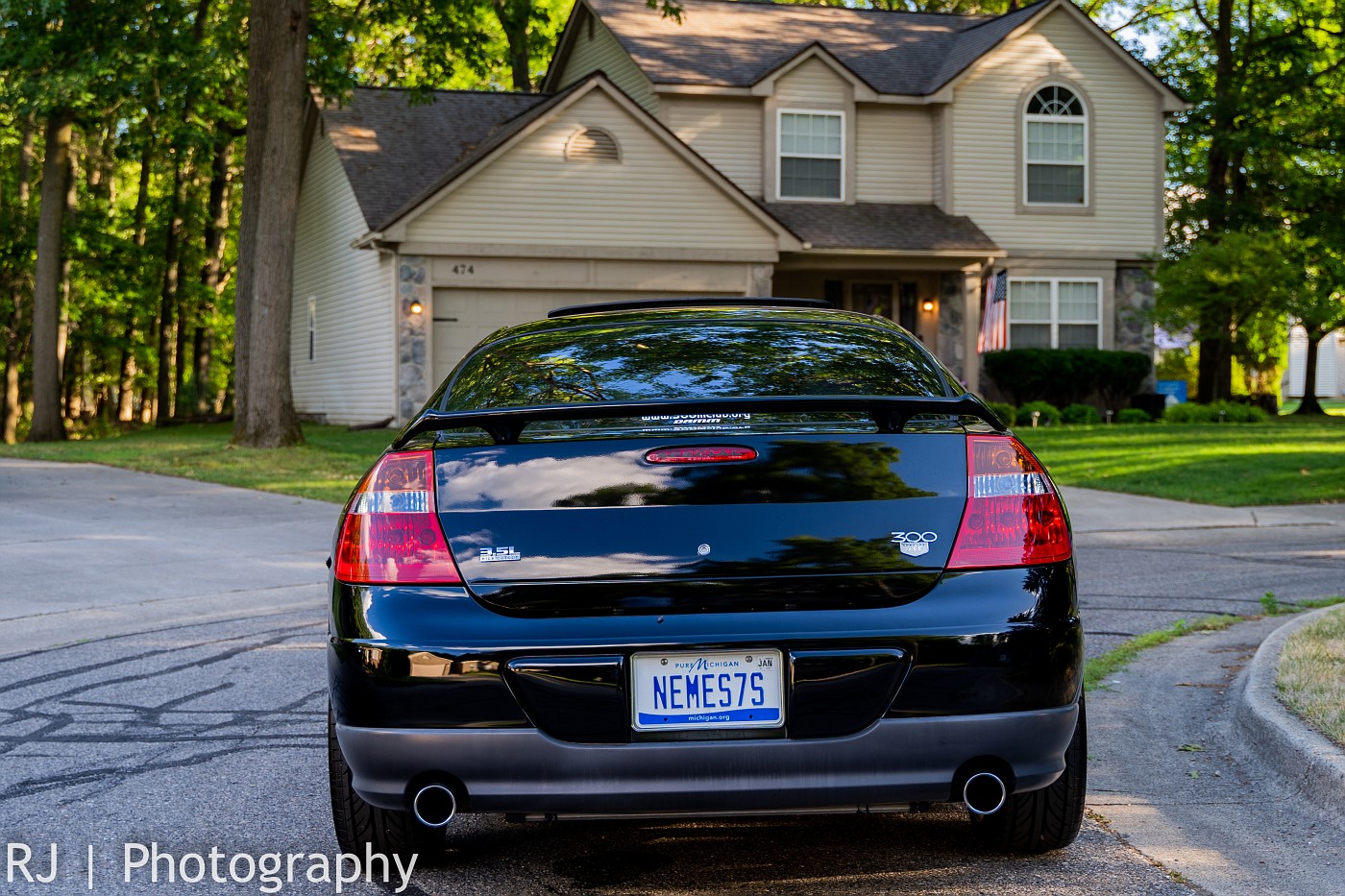 As it sits in the garage today
, plus the uncracked dash and closeup of the fender chip. The cord hanging out in the last image is the battery tender system I use for both Specials: