This isn't a modification, rather it's restoration work to strip away 20 years of wear, and make it somewhat suitable for a mod in my car, but I thought folks here might appreciate this as a way of sprucing things up without the need to reupholster.
As some may know I installed rear buckets in my Special a few years ago. In a perfect world the best way to do it without reupholstering is to get one passenger and one driver cushion and swap them side to side, to avoid having large holes where the seat controls bezel mounts. Unfortunately the reality is good drivers seats don't exist in salvage yards, and a common fix when a cushion fails is to get a barely used passenger cushion to replace it. Works well for the front seats. Back seats it doesn't work, due to those holes being right in your face when you open the door.
Two ways to fix that. One is reupholster the cushion ($$$$$). The other is to find donor material and use a good leather filler and dye to close those holes up. The filler and dye also works well to restore wear and tear on the rest of the seat, as that is the primary use for it.
Since I'm currently masquerading as an adult and throwing money into my house, the reupholstery has to wait a few more years. Luckily most of my seats are already in great condition, so I went the filler and dye route.
My overall plan is to take one of my really good rear cushions and put it in my current driver seat, to regain comfort. That driver seat cushion could go in the rear, but not with those ugly large side holes. Since I have a spare cushion in the basement that came from the Special Bob parted out many years ago, I decided to take my time on that particular cushion, and swap it into the car, making the current drivers cushion a spare.
The kit I used is from SeatDoctors.com. It's a husband and wife outfit in the Carolinas that has formulas for hundreds of seat colors. Though they don't list Light Taupe specifically for the 02 M, they do for the Concorde. I confirmed to them that my seat color code is Chrysler L2, which they have the color ratios for and were able to mix up a batch for me. I bought the filler and palette knife at the same time.
Word of caution, leather filler comes in very small containers. Remember a little goes a long way. That one little container was able to help fill the side holes along with material cut from a spare headrest, as well as cracks and wrinkles all over the actual leather portion of the seat. This seat needed a lot of help when I got it 10 years ago, which was helped by SEM seat paint, but it still needed a lot of help. I feel like it's still a candidate for reupholstery, but it came out pretty good all things considered.
What I started with: To fill the holes, I cut donor material from a spare headrest that was in a box, leftover from an old seat used for other purposes. The piece is held in place initially by some gorilla tape on the backside. The sides are then glued to the existing vinyl using Loctite shoe and leather glue. The lower edge was also wrapped around the plastic webbing that holds the seat cover to the frame, glued, and clamped.
Once dried I could remove the clamps and reinstall the plastic webbing to the frame, stretching the material.
At this point, we need to sand the leather and vinyl where it's being repaired. This opens up the cracks and gives a good surface for the filler and dye to bond to. They usually say 600 grit, which I used on the trashed leather, but I used 320 on the vinyl sides. The whole seat needed work, so I concentrated on the main damage first and then did an overall sand on the entire top and sides.
After wiping away the dust, I could start the filler. The holes I'm filling needed far more filler for obvious reasons. In the end, they'll do (first time ever doing this), but I will still need to reupholster it. These side holes took several coats, lots of sanding between, and lots of filler. One of the tricks is to treat it like mudding drywall, spread the filler out more and more as you go to avoid huge lumps and make it look uniform. I would also try to get the edges to point down as best as possible, to avoid having large lumps in the first place. Hoping my next attempt turns out better with some lessons learned.
Filling the natural wear cracks and crevices was easier. Use the palette knife to press the filler into the crack, and gently swipe it over the top to smooth out out. Doing that makes sanding later easier and faster. Sand between coats using 600. Should only need 2-3 coats. This particular seat was hammered and was starting to tear in the waterfall stitch pattern, so I quickly used all the filler on all the cracks and as many of the creases as possible. I ended up needing to get JB LeatherWeld to help fill everything in, but that's more of an adhesive than it is a filler and doesn't sand as well. I got through it by using my wet finger to press it into the stitch tears and feather it out. The JB dries quickly.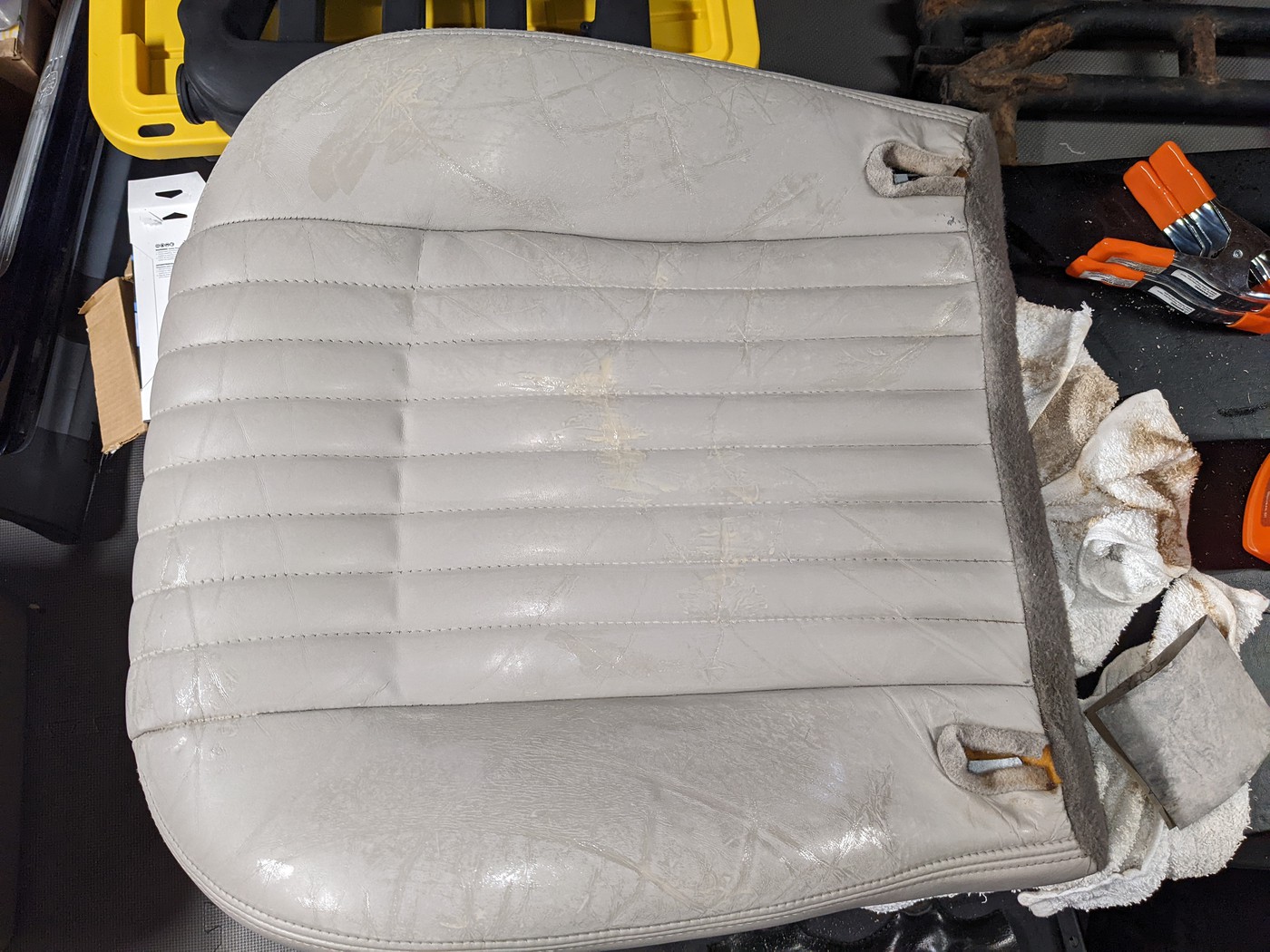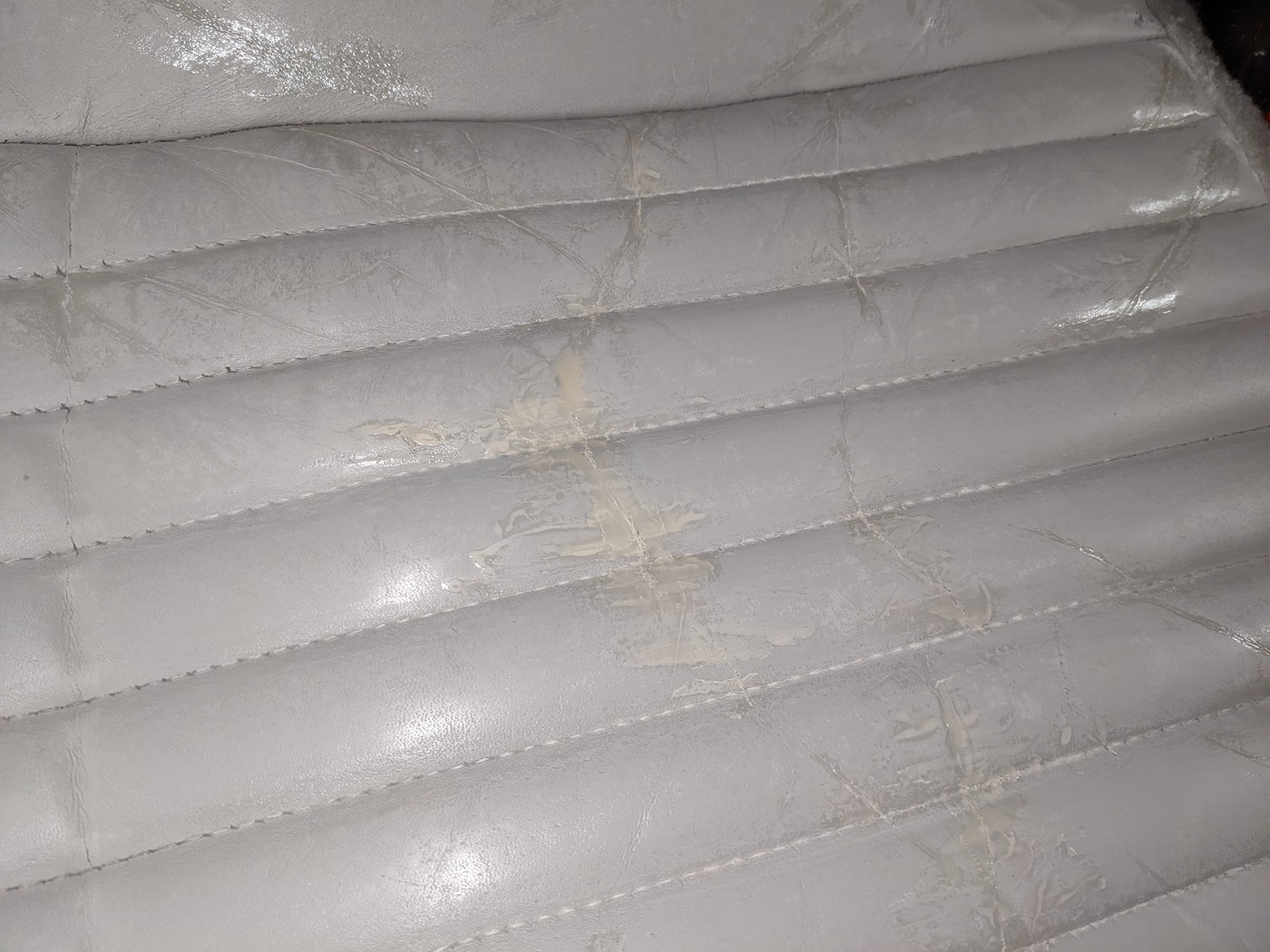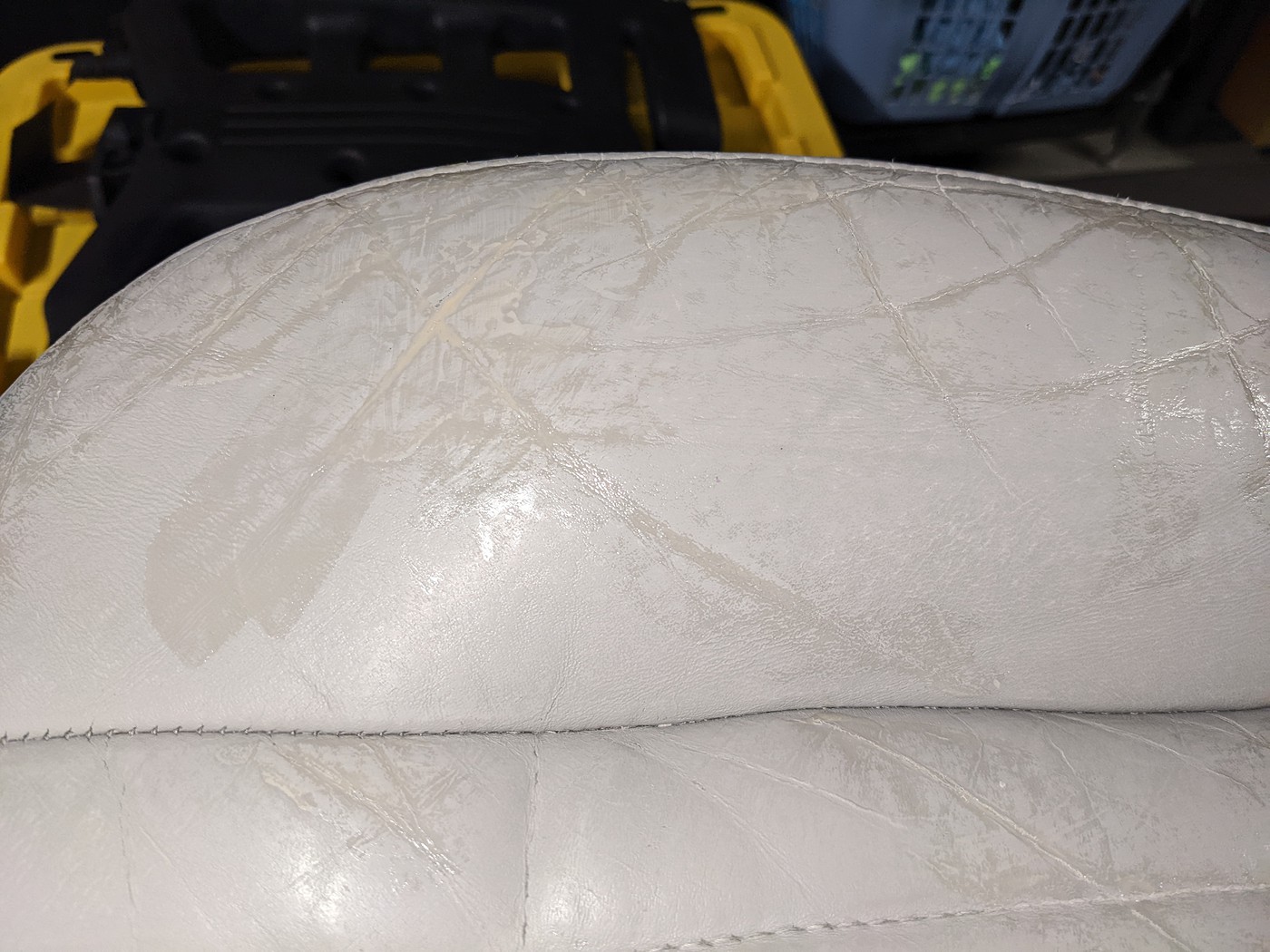 With everything filled and sanded smooth, and wiped down, time to dye. Shake up the bottle of dye, it goes a long way and even though I needed to dye it 6-7 times, I still have enough to easily repair all the seats in the car. I plan to do my driver's lean back bolster once I get more filler.
There's a couple ways to apply the dye, spray or dab. If you have access to a hobby small sprayer you'll get a great consistent color coat. Alternatively you can use a PreVal sprayer available at Home Depot. I have a PreVal sprayer, but I chose the dabbing method to avoid overspray.
I bought a sponge intended for keeping clay art projects wet, wet it down, rang it out, then loaded it with dye. Dab it on in a few places while it's thick in the sponge, then take your time dabbing the repair area and spreading the dye to get that even color and appearance. It will take several coats this way, but it does seem to dry quick so don't let it dry in thick quantities. Be relatively quick to spread it by dabbing. Do NOT spread by rubbing, as it will smear and look like it was brushed on.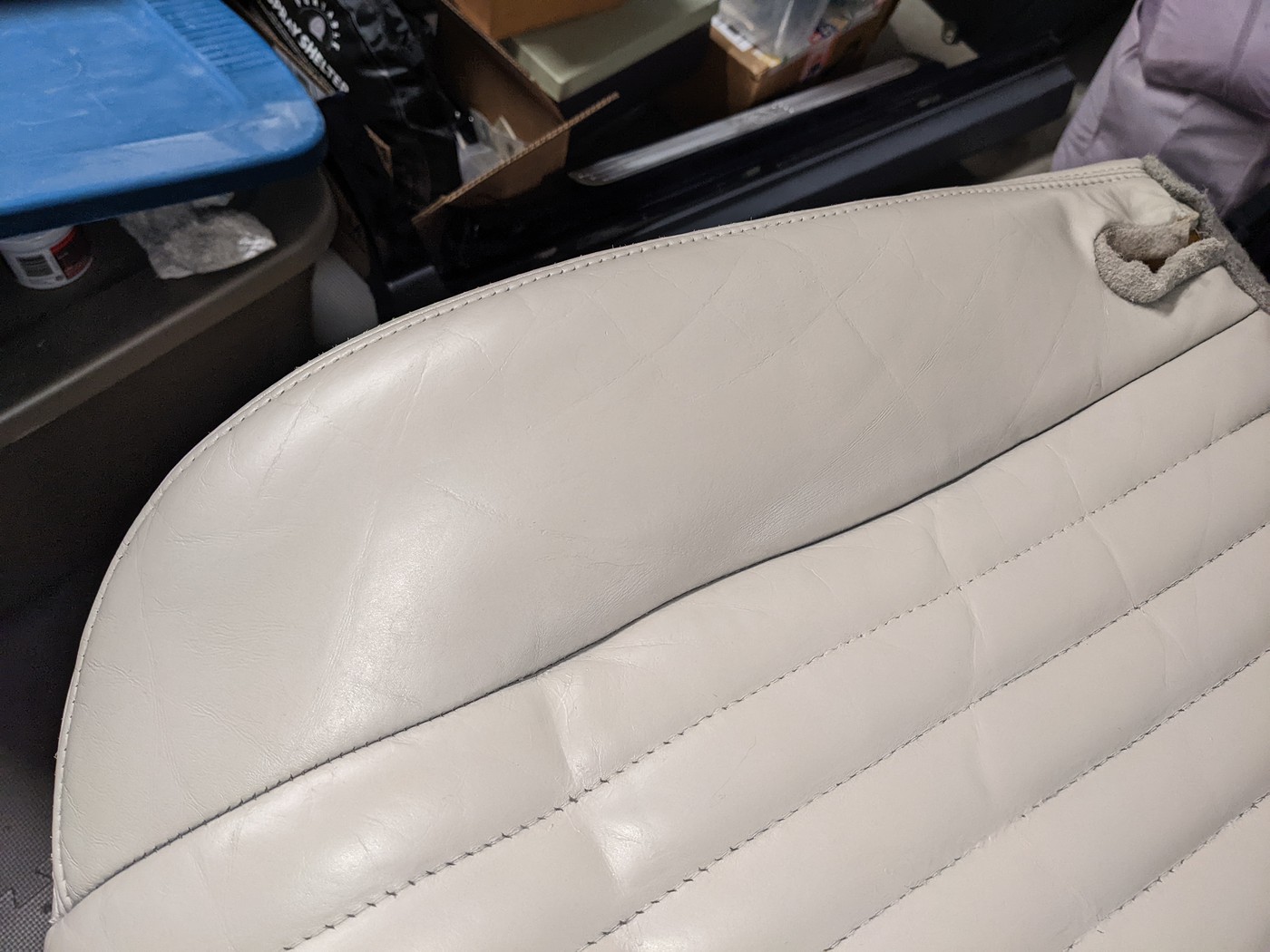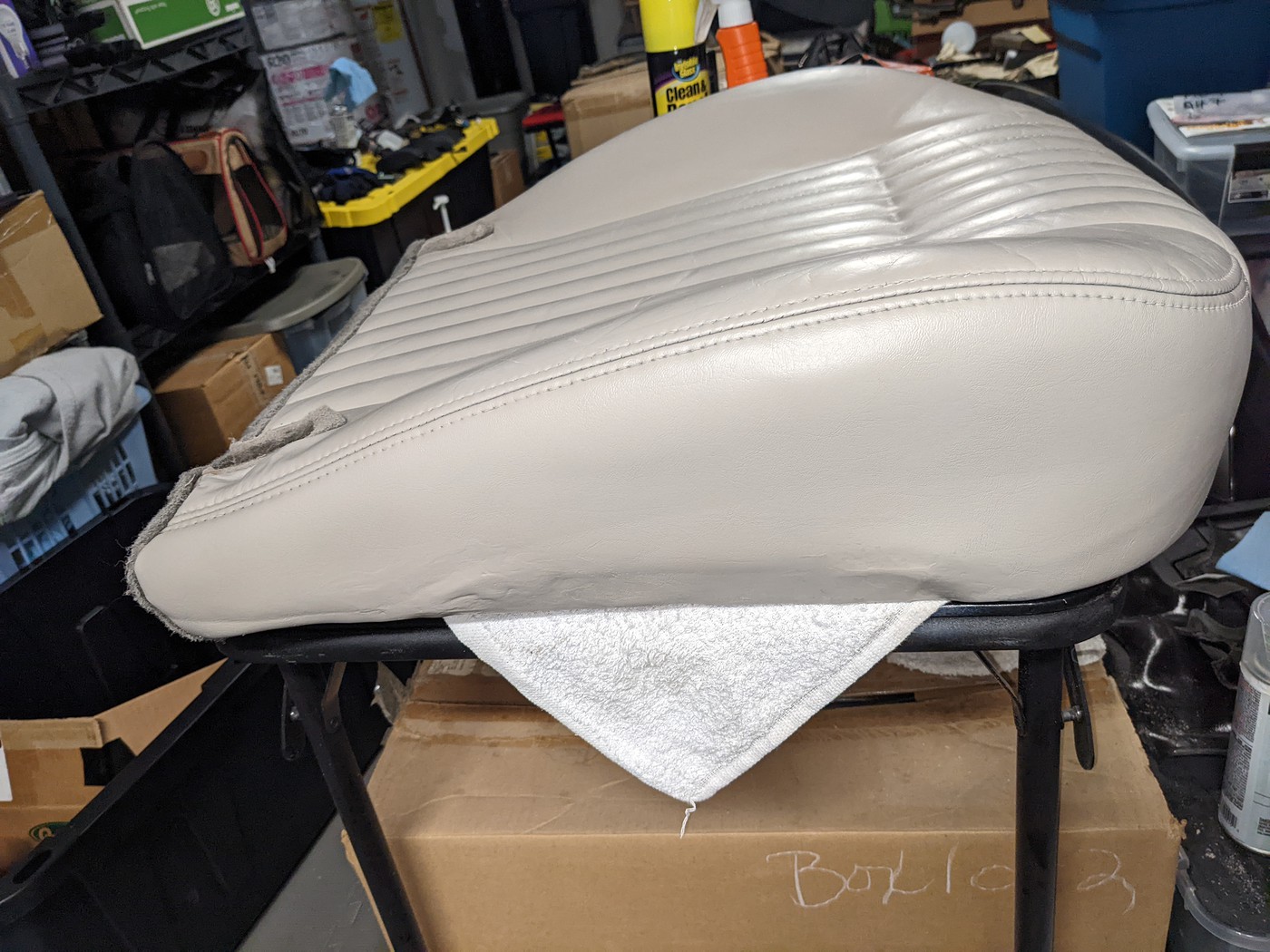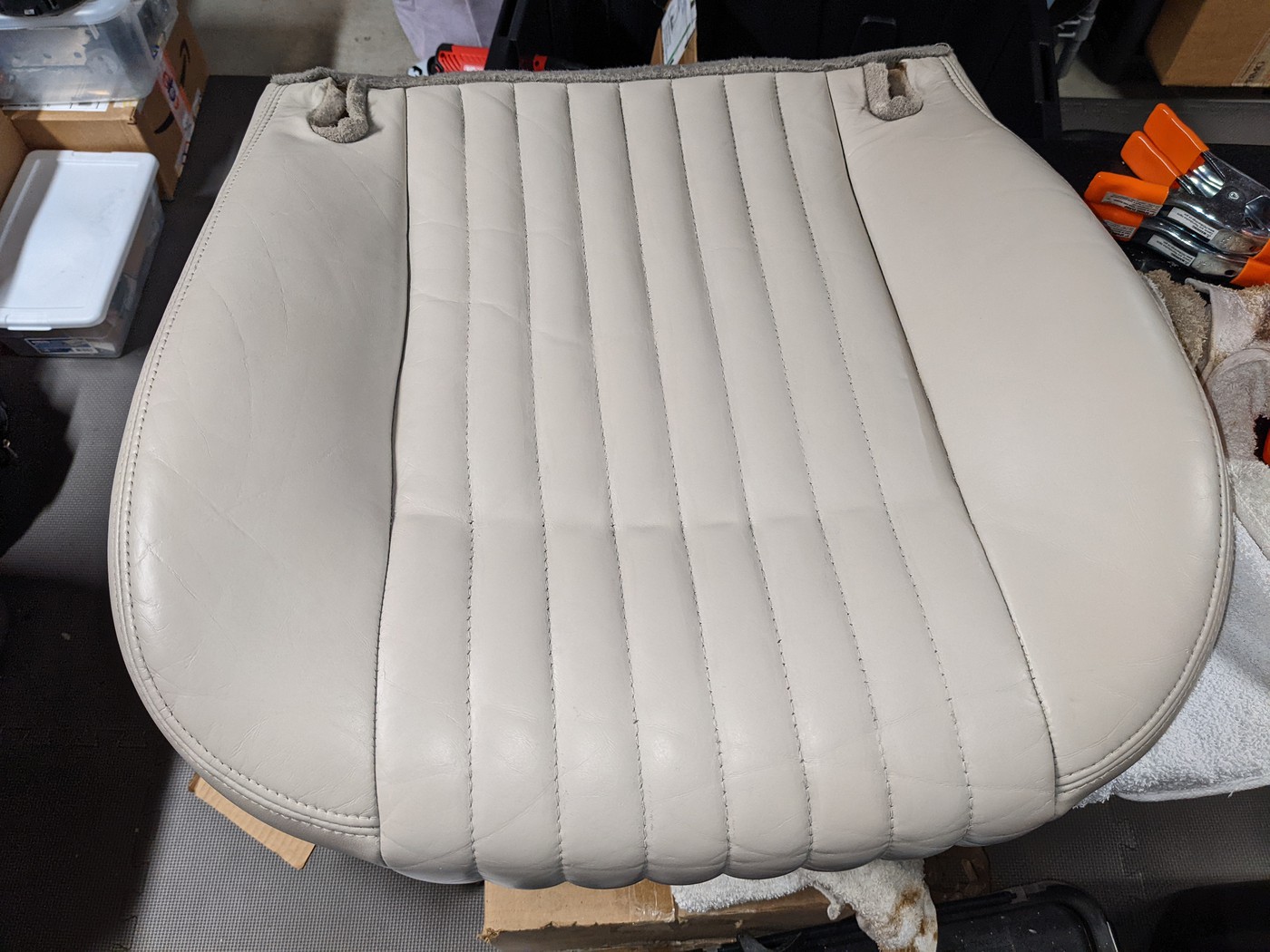 There's nothing perfect about it, particularly the side where the holes were filled, but it's much better and didn't cost $500+ to reupholster. Color also seems to be pretty good, so it seems we have a good option for getting new L2 Light Taupe paint since SEM discontinued it.
You do not have the required permissions to view the files attached to this post.