Picking up right where we left off 24 months ago, what an amazing Carlisle!! Lots of laughs, lots of firsts, and lots of shenanigans!
We started to gather at the hotel in the early afternoon. It's hard to put into words the feeling of pulling in and seeing fellow members – even a few new faces!! Awesome to meet Cody and Corey as well as John Smith's wife, Cindy, and welcome them into the family event. I've got to say having Robert Waikel arrive before us was a wonderful treat - it was a true bonus 24 hours with him! I got to show off my newly acquired window chip in the black car…I took a few pieces of shrapnel off the windshield leaving a number of marks on the hood and glass – bummer!
Gradually, we unloaded the cars and checked into our rooms. Why yes, of course the first year I'm not serving food and lugging many pounds between my room and the car 8 times a day, I'm given a room on the first floor!! Isn't it ironic?! I must apologize to those I was likely having a conversation with when I'd notice someone new arrived and my abrupt departure (envision me just randomly running away with my arms open at a new person) to hug and welcome them – I couldn't help myself! Chased off the parking lot for a bit with some pouring rain, we also had a lull in arrivals so, since traditions die hard with us, we headed to Dockside Willies for a great first meal. But not without some excitement! Michael Taylor mistakenly locked his keys into the trunk! The crew tried to get at it but with a call into AAA we would later rescue them!
Back at the hotel the group continued to grow! The MA crew arrived from the overnight drive and yarding…though Chris had the right idea with stopping at Hershey Park! Bill and family arrived and though Bill and Colleen look exactly the same they've always looked, they had these two young ladies with them which made me double take more than once over the weekend!! It's amazing how much Gwen and Charlotte have grownup over the years as a part of this club. Fellow member, Steve Reindl, found his way right into this group like he's always been there even though he was a first timer. A little help to find Nick, Ed, and Kayla a new hotel room after a major surprise when opening their room at the hotel across the street – looked like there had been a party in the room!! They couldn't stay there nor was there a room left at our hotel that was reasonably priced but they found a great new location close by which we will checkout for future years.
It will never cease to amazing me when new members join us, how quickly they join in with the group dynamic. The typical Thursday night beer drinking, chatting, car showing, and tons of laughing! And even more typical is a beer constantly making its way into Keith's hand. While it wasn't John Benjamin keeping him stocked, the group did its best and Keith was sufficiently, very, drunk! As the group dwindled after a day of driving, the parking lot crew became smaller and smaller. I've got to say, I was determined to experience a different side of Carlisle this year and closing down the parking lot was on the new Carlisle bucket list. Sure enough, night one, I was privileged to close down the parking lot with grown-a$$-man drunk Keith, John Smith, Robert Waikel, and Bill. We probably would have stayed longer but it was raining and the sun wasn't too far from raising.
It was a short night…a very short night! 3.5 hours of sleep and we were back up and headed to the showfield to spend Friday. As Keith noticed as I woke him up that morning, he 'went out too hard on day one' as he was still feeling all the beers. Robert Waikel looked a bit pale when asked if he would drive John Benjamin's car to the showfield! He did a great job!!
It was a great day to be back at the Carlisle Fairgrounds! There was sunshine, and cleaning, and laughing, and lots of togetherness! I greatly enjoyed getting to spend the day bouncing around between a little group here and a little group there to catch up. Nick Taylor seemed to be more of a social butterfly than anything as he always seems to be everywhere – don't know how he does it! A number of members had much success in the swap meet with the best finds being a NOS OEM trunk spoiler (congrats Ryan) and NASCAR sign (congrats Clarence). We hung the AMAZING quilt that Cindy and Dave made with past Carlisle t-shirts which would later be auctioned off amongst the club members.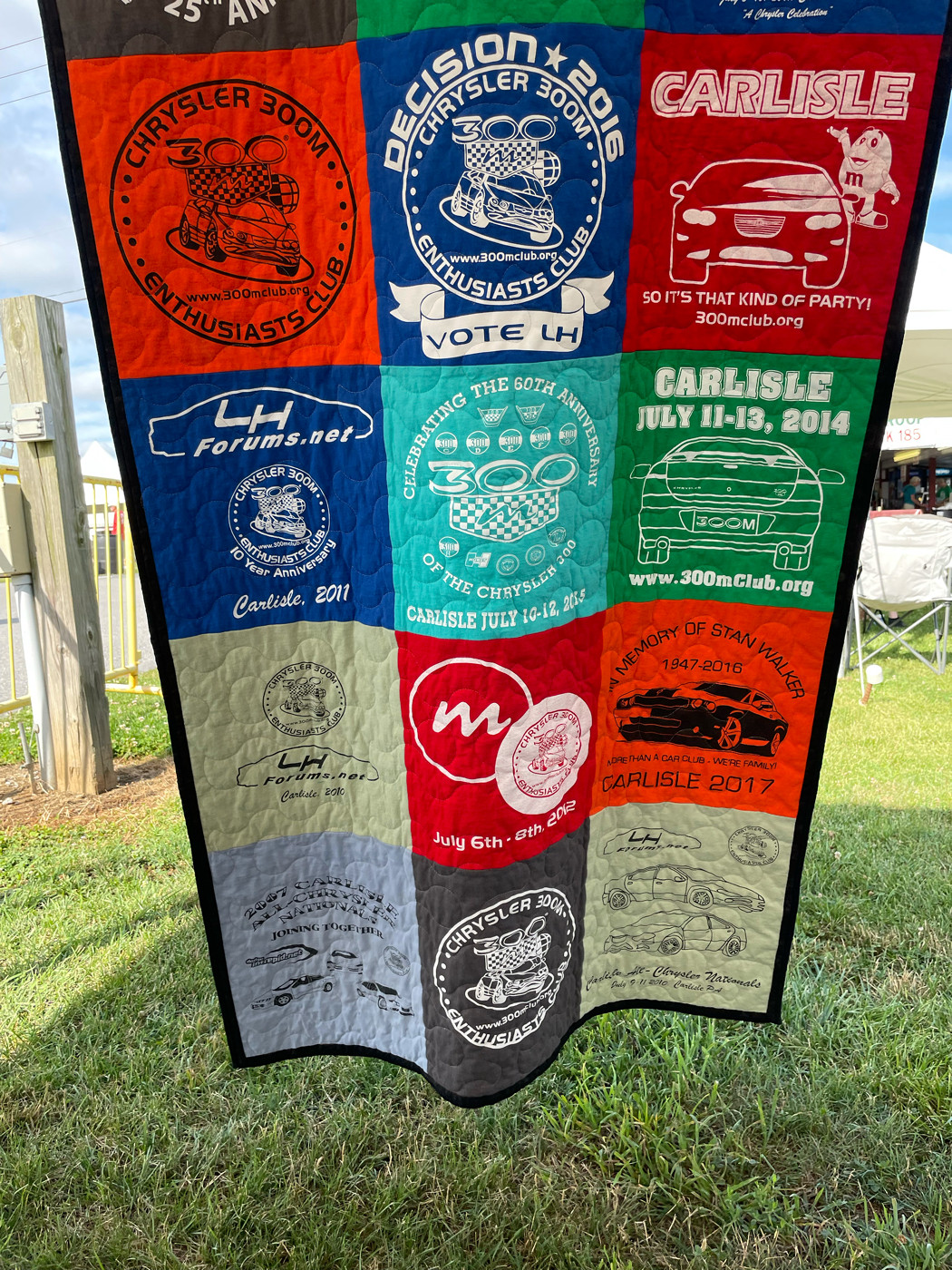 I got to tour the Women's Tent and John's wife, Cindy, discovered many vendors giving things away – wink wink! That's our story and we're sticking to it! We enjoyed a variety of food from vendors which we hadn't enjoyed in past years. The rain chased us away from the showfield with some majorly large rain drops!! There was a moment of scattered chaos as we made our way to the cars and hit the road back to the hotel.
Friday night sent us in a few different directions for dinner but returning to the hotel parking lot as always. Scott worked on installing his new headlights with some test subjects who got lucky seats directly in front of them. I passed out club shirts and the Carlisle gift (a travel mug, club flag, and new 20th anniversary key chain). Justin and Matt made a quiet entrance in a hybrid Aspin. Great to hear the latest Matt stories. Additionally, the Steward family joined us for a peek into their crazy life with so many drivers and workers, I'm not sure how they handle schedules! We'll pretend both van keys didn't make it to the showfield when the van was parked at home and needed to be used
It was another short night and one for the books…closed down the parking lot a second time only knowing that 3:30am was right around the corner!
Saturday was sunrise at the showfield – another weekend bucket list item for me!! We arrived just after 4am for a quick selfie and then a nap.
Depends on who you ask but it was rather cool that morning! The group grew a bit as the sun was closer to raising and we were serenaded by 'Here Comes the Sun' thanks to Ken and Anne. I saw my first Carlisle sunrise and boy was it a beauty!!
It's amazing how long the day is when you get up before the sun!! Another great one though! Sporting our great red club shirts to celebrate the club's 20th anniversary, we had showfield voting and all our cars were on full display – looking wonderful I might add!! Our club award voting took place as well.
Saturday night brought us to a club dinner across from the hotel at Boomerangs. I finally got to deliver a hug to Sarah as I taunted Ken he just wouldn't do it right! So great to see the boys who are also playing the same trick on us as other club kids – they're literally growing by leaps and bounds!!! While it was a bit of a bumpy start, our one and only waitress crushed it!!! She was bartender, runner, server, and busser. Yes, she did it all!!! We mixed things up a bit to allow for everyone to eat and did raffles of a donated bucket from Stoner full of cleaning supplies (enjoy Ed!), intake spacer and manual CDs (enjoy Tim), and beautiful pillows that Cindy made (yay me, Robert Knapp, Clarence, and Ken!!). We also announced the winner of the silent auction (after much strategy discussion at the showfield) – with an amazingly generous bid, Ken Eyler took it home!! Stephanie guessed the number of M&Ms…only shy by 2 packets!! Clarence received his Ride of the Year award…adding to his haul of the night! Keith and Ryan distributed the John Benjamin Virtual Car Show awards to those present as well as the Carlisle club awards from the day.
Following Keith's presentation of awards, Bob was able to surprise Keith with winning the John Benjamin Virtual Car Show 'Spirit of the Club' award!! A wonderful way to recognize Keith's amazing accomplishment of serving as Club President for the last 10 years of the club. Additionally, Ryan presented Keith with a clock which the Board of Directors had made. We really strung Keith along with this one!! As we left the restaurant and headed back to the hotel a few very minor but majorly meaningful things happened. It was painstakingly apparent that our group was missing some very important people. Stan Walker wasn't in his seat, telling jokes. We didn't hear John's laugh among the group and greatly missed him and Barb joining a table's conversation. There were certainly tears shed during dinner as we grieved these losses to our membership. In a conversation with Bobby and Suzanne, the only consolation was sharing that we've learned to live each day to the fullest and tell others that they are loved. Secondly, a minor issue with an underbody kit found Cody having to take a look at this car. A few of us waited just to make sure he was all good…even if it was about 800 feet to the hotel. That's just what we do!
It didn't take long before chairs were circled up in the parking lot. We shared our traditional toast of Blanton's to those who we've lost over the years and there were lots of 'mmms' following the shot. This year's bottle had a wonderful vanilla aftertaste. We followed with cake and one final celebration of Keith's 10 years a President. It's as though we never wanted the night to end and even Darlene made it past midnight in the parking lot!! The shenanigans included many drunkie drunk phone calls by Bob and Ken. There might also have been a giant road cone found and provided to Keith for yelling. Being so large it required some developed skill to use properly, but Keith still found success with yelling at poor Ryan through it!!
Sunday is always a much more relaxed morning at the showfield and it's great to have the results posted electronically. If there were winners for being the cutest car match couple, it was Ryan and Ashley with their bright green shirts. Ashley's nails painted to match and color coordinated purse were the best! The morning went fast as cars lined up for the parade. Thanks to our club cheering section!! And those who captured video and photos of the lineup. I've got to say I was so excited when the announcer pointed out John's license plate reading 'be special'.
With such a large group staying Sunday, there weren't many goodbyes at the showfield. One last walk through the swap meet checking out the last-minute deals as vendors don't want to have to take the stuff that they brought back with them, Scott did some custom Hot Wheels shopping for Keith – way to spoil him! As the fairgrounds emptied out, a group of us gathered at the pavilion for a photoshoot. It was great to have John's car pictured with fellow cars and our photographers Scott and Robert Knapp got some great shots!!!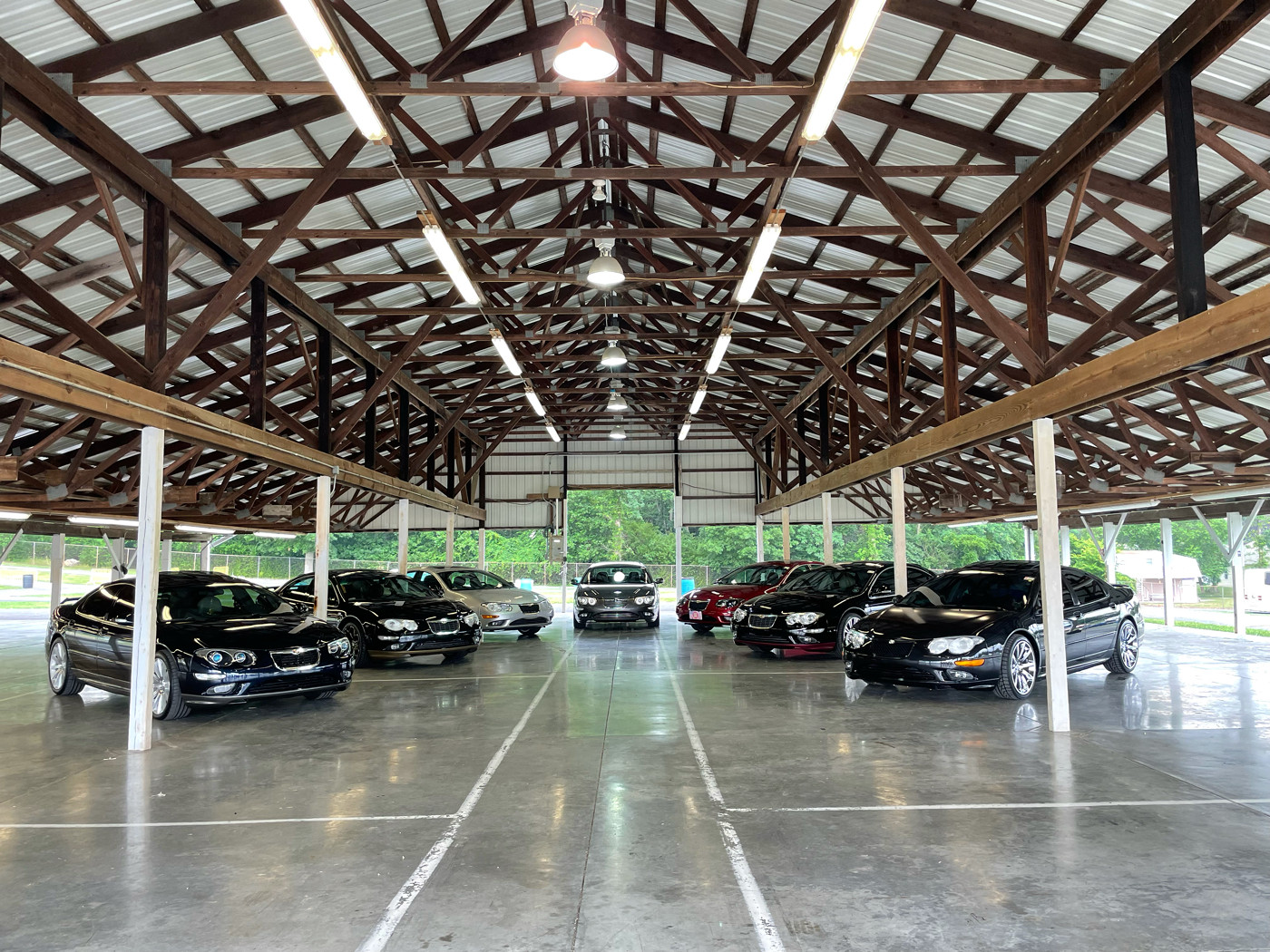 As with anything for our groups, it's not without excitement! We thought we weren't making friends with asking a guy who had a car for sale still parked in the middle of the pavilion to come move it. Little did we know we'd get blamed for a man driving into the building with his car transport!!! YES, that's right!!! I was yelled at by some stranger who decided to turn left where there wasn't room and hit the building with his trailer. After making it around to the building where I just happened to be standing next to our cars, he began to scream at me that it was my fault. Logically…even illogically, I'm not sure how it could have been our fault!! But he kept driving away!! A true hit and run!! Not to worry, there were NUMEROUS witnesses and we got pictures of him, his truck, and the trailer. Able to connect with Carlisle Events staff, we shared the info and hope they're able to connect with the guy and hold him accountable!!!
A quick stop back at the hotel for a group to start to look at Ken Wesley's air conditioning. Pulling the system was started and let stand while we were off to dinner. I've been told before, staying Sunday night is the best. We had a great meal with great company (except the fact that Kyle wanted to get back to watch the basketball game and clearly was routing for the wrong team!!) and back to fill the Intrepid with Freon for cold AC! Sunday night we were very low key in the parking lot. Knowing we all wanted a good night's sleep before driving on Monday, we watched an amazing lightning storm come across to the hotel followed by rain which sent us running inside. Final goodbyes in the dining area of the hotel which is always the WORST part. Back to the room to pack and sleep.
Monday morning, we caught Michael Taylor and Jimmy for a bonus goodbye before pulling away and stealing an extra kiss from the Goofys and we were off headed south. The final car in the lot, Clarence closed out Carlisle 2021.
All in all, it's like we never skipped a beat, yet we all had a void in our hearts missing John. As we look to do a new event in November in Myrtle Beach, I know Keith and I are excited to see everyone again! Until then, safe miles full of many smiles!
Checkout more pictures from the weekend!
https://public.fotki.com/300mclub/event ... page4.html
Lindsey
2022 Club Treasurer
Ride of the Month Winner: September 2017, May 2019, December 2022
Ride of the Year Winner: 2022
My what, my why, and my how: